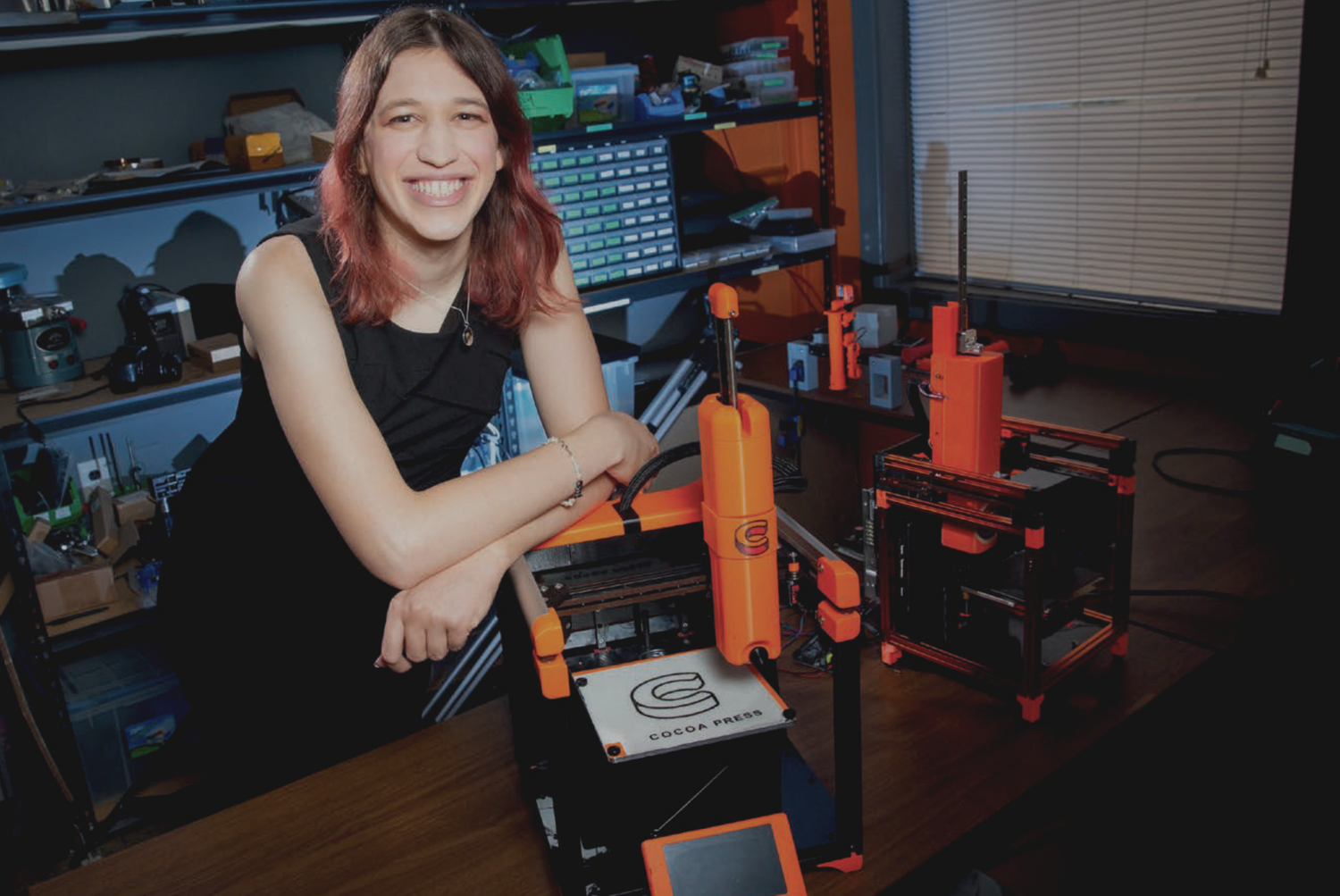 About Us
Cocoa Press is shaping the future of chocolate using 3D printing to enable personalized, on demand confections.
Ellie started working on Cocoa Press in 2014 during an intro to engineering class in high school. She graduated from Penn Engineering in 2019 and began working on Cocoa Press full time after 5 years of it being her hobby.
Ellie has also appeared on the Battlebots TV show as a part of team Mammoth and is passionate about the ways we can use 3D printing across industries. When not 3D printing she sings and enjoys weaving, woodworking and glassblowing while fighting for trans rights across the US.
Meet our Team
Kim

Technical Support Engineer

Maks (RCF)

Incredible Mechanical Design
Cocoa Press throughout the years
Version 1: 2014-2015

Cocoa Press started here. It had a custom plywood frame and motorized extruder but had no cooling abilities. I built it from the ground up with inspiration from a Makerbot Replicator I used to print most of the pieces.

Fun Fact: The tallest item this version printed was a 13 layer vase.

Version 2: Update 2017

This update used the same frame as the original. It utilized pneumatics for the extruder and peltiers to cool the chocolate after being extruded.

Fun Fact: This printer used custom circuitry in place of a stepper motor driver to open and close the pneumatic valve.

Version 3: ChocolaTier 2018-2019

ChocolaTier was my senior design capstone project at the University of Pennsylvania. It featured a sheet metal frame, pneumatic syringe and full vapor compression cooling system.

Fun Fact: ChocolaTier had 5 temperature sensors throughout the extruder to control the heating.

Version 4: Charlie 2019-2020

Charlie focused on ease of use, food safety, and design for manufacturability. It featured a stainless steel build chamber, new touch screen interface, and easily adjustable air pressure control. It used thermally conductive filament and 3D printed metal to quickly test hot end geometries.

Fun Fact: We had 4 trade shows lined up in the spring of 2020 to show Charlie off when COVID-19 hit the US.

Version 4: Update FrankenPrinter 2020

FrankenPrinter combined all of the best parts of our Charlie prototype with a brand new stepper motor driven extruder. This new extruder gave us much more accurate temperature and extrusion control and is the basis for our current design.

Fun Fact: FrankenPrinter switched from using single use plastic cartridges to a reusable stainless steel system.

Version 5: Chef 2020-2022

We tidied up every nut and bolt for Chef. It continued to utilize a vapor compression cooling system, an insulated build chamber, and a double-paned door. It had an updated, all-metal stepper motor driven extruder, and a frame made of food grade stainless steel and powder coated aluminum. We released this printer in the fall of 2020.

Fun Fact: Chef requires a custom thermistor circuit to have a chocolate temperature precision of +- 0.1°C.